History  Of  Adelante  Mujer
Adelante Mujer/Advance Woman was founded in 2009 by Sister Ann McKean, CSA when she met an academically superior Nicaraguan high school graduate. The young woman wanted to pursue a university education but was unable to do so because she did not have the money.  Beginning at that moment Sister Ann, herself a university professor, was inspired to do everything in her power to financially assist similar young Nicaraguan women with aspirations for a college degree they could not afford.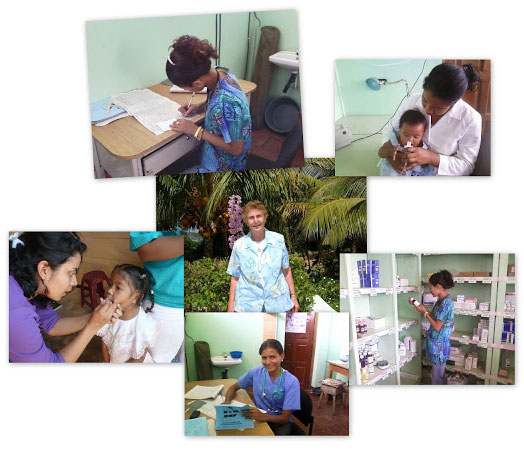 Adelante Mujer, recognizing the dire need for medical doctors on the Caribbean coast of Nicaragua, decided to focus its ministry on women who aspire to become medical doctors.   Adelante Mujer provides funds for needy young women who would otherwise not be able to afford the cost of six years of study required by the medical school at URACCAN University.  Each month recipients of Adelante Mujer scholarships are given money to help pay for school supplies and for the expensive medical supplies and equipment uniquely required for medical students.  One meal per school day is also funded by Adelante Mujer because many students can hardly afford this daily expense.
On December 12, 2014 the first eight beneficiaries of Adelante Mujer graduated as medical doctors and on January 27, 2016 an additional five Adelante Mujer students pronounced the Hippocratic Oath as medical doctors!   At the Promotion Ceremony on December 5th, 2016 nine Adelante Mujer students became Adelante Mujer doctors bringing the total number to 22
Currently, there are 30 young women who are Adelante Mujer medical students.  Any donation, however large or small, is greatly needed and will benefit the education of young women whose medical service will be offered to people of the Caribbean coast.
Here is our timeline:
2016
At the Promotion Ceremony on December 5th, 2016 nine Adelante Mujer students became Adelante Mujer doctors bringing the total number to 22
An Executive Committee, Finance Committee, and Development Committee were established
There were 28 Adelante Mujer students for the second semester of 2016
On January 27, 2016 five Adelante Mujer students pronounced the Hippocratic Oath and became medical doctors!  They began their internship at the local hospital in February
The eight Adelante Mujer doctors of 2014 began their two years of social service in clinics and hospitals assigned by the Nicaraguan Ministry of Health
Currently 13 Adelante Mujer doctors serve in various venues of eastern Nicaragua
23 students have been awarded Adelante Mujer funding for Semester One of 2016
The Strategic Planning Committee initiated its work which will be discussed at every meeting of the Adelante Mujer Board of Directors
Two new members were added to the Board of Directors, bringing the number to nine
2015 
17 young women received Adelante Mujer scholarships during Semester One.  Adelante Mujer was able to award scholarships to 21 students for Semester Two
This website was launched because of the donated time and expertise of a generous friend and benefactor
An accounting computer program was adopted for financial record keeping and reporting
The Board of Directors engaged in a Strategic Planning Retreat to begin a design for the long term future of Adelante Mujer
2014
An Executive Team and a Board of Directors were named
Adelante Mujer became a corporation and received 501©3 tax exempt status
12 students were supported for semester one, 16 for semester two
The first class of eight Adelante Mujer students graduated on December 12, 2014 as medical doctors!
2013
The number of Adelante Mujer recipients rose to 11, then 12
The decision was made to fund only women medical students because of the great need for doctors in eastern Nicaragua
2012 
With the addition of four scholarships, 10 young women now benefitted from Adelante Mujer
One large grant was received to help finance Adelante Mujer
2011 
Adelante Mujer funded four women medical students for the first semester and six for the second
Numerous donations and one small grant were received to help fund the growing number of students
2010 
The first student, a woman in the medical program, was awarded an Adelante Mujer scholarship
Sister Ann began to diligently solicit funds that would financially assist young women in eastern Nicaragua
2009
Adelante Mujer is founded by Sister Ann McKean, CSA.
The Congregation of Sisters of St. Agnes approved the venture
Sister Ann researched universities and towns in eastern Nicaragua and chose URACCAN University in Puerto Cabezas as a partner for Adelante Mujer