Welcome to the Adelante Mujer Blog! This very first Blog message proudly relates an important milestone in the five-year history of our scholarship program. ADELANTE MUJER HAS GRADUATES! ADELANTE MUJER HAS SPONSORED EIGHT YOUNG WOMEN WHO ARE NOW NEW MEDICAL DOCTORS IN EASTERN NICARAGUA!
On December 12, 2014 it was my honor and privilege to witness the graduation of the first Adelante Mujer scholarship recipients. Dressed in their immaculately white medical coats accentuated by the brilliant pink and yellow stoles signifying the completion of their medical studies, Adelante Mujer graduates and nine others raised their hands and pronounced the Hippocratic Oath. Significantly, the oath was administered by Dr. Manuel Salas who is the Dean of the General Intercultural Medicine program at URACCAN University in Bilwi/Puerto Cabezas, Nicaragua. Dr. Salas is also a devoted link between the university and Adelante Mujer. He refers to Sister Ann as "our guardian angel".
During the graduation ceremony I was invited to describe the ministry of Adelante Mujer to the many guests in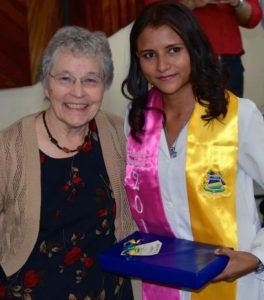 attendance. I told about the founding of Adelante Mujer and its five years of its ministry in poverty-ridden Nicaragua. I related the generosity of donors who want to make a difference for the young women they sponsor and for the people whose health care will benefit from the service of these doctors. Parents and relatives hugged me, university personnel thanked me, visiting doctors offered congratulations for a work that is possible only because of the initiative of Sister Ann McKean and the generous donors whom I proudly represented at graduation.
Toward the end of the graduation, after the presentation of several awards, I was given the opportunity to present the Adelante Mujer graduates with their gift from donors: a Littmann stethoscope engraved with their name. One of the new doctors cried when she received her gift. Donors will be proud to know that Ana, the first recipient of an Adelante Mujer Scholarship, was the valedictorian of her class. La Prensa, the national newspaper, featured the URACCAN graduation and named Ana as "la mejor estudiante." (the best student)
After graduation the Adelante Mujer graduates asked me to carry a gift from them to Sister Ann. It was a framed photo of the eight of them, all dressed in their doctor coats. It was a touching moment.
Congratulations, Graduates! We are so proud of you and happy for you. Now Adelante Mujer/Advance Woman!
Sister Diane Bauknecht, CSA
Secretary/Treasurer of Adelante Mujer, Inc.
Please consider Adelante Mujer, Inc. in your estate planning.
To donate by mail, please complete our mail-in donation form.