Congratulations to Adelante Mujer Doctors: Yeritza, Lidicy, Natalia, Jomarie, Keila, Kira, Elisa del Carmen, Rosa, and to Kathlen who is not in the photo.
We have really good news to share. As of December 5, 2016, Adelante Mujer, with every single one of our donors, can celebrate another milestone of success and joy. On that sunny, tropical day in Bilwi/Puerto Cabezas, Nicaragua nine of our current students raised their right hands and pronounced the Hippocratic Oath that invested them with all the responsibilities of medical doctors.
The gift each doctor holds is an engraved, Littmann stethoscope presented by me during the promotion ceremony. With these nine new doctors, Adelante Mujer has now provided funding for 22 of the first 41 doctors educated in the unique intercultural medical program of URACCAN University. During February the class will begin a year of internship at the local hospital and clinics followed by two years of social service in locations assigned by the Ministry of Health of Nicaragua.  May God bless them into their vocation and profession!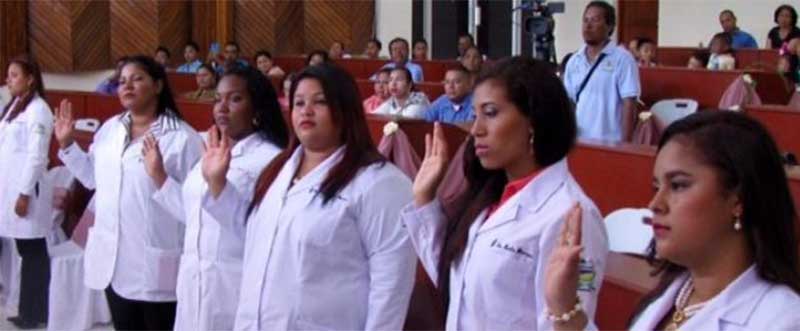 Merry Christmas to Adelante Mujer doctors, students, donors, friends, and readers of our blog!
by Sister Diane, CSA   ~   December 15, 2016
Please consider Adelante Mujer, Inc. in your estate planning.
To donate by mail, please complete our mail-in donation form.