For seven years Sister Ann McKean, CSA, PhD has been finding ways to financially assist young women in eastern Nicaragua to become medical doctors. Herself a university professor, Sister Ann detects talent in young people and she believes they should have every opportunity to develop their talents. In 2009 Sister Ann founded Adelante Mujer,Inc./Advance Woman! The purpose of the program is to invite donors to help educate women doctors in a country second only to Haiti in poverty. Sister Ann's goal has been realized even beyond her own expectations. And the students love her for it.
Day and night the students contact Sister Ann via email or FaceBook Messenger. One wrote, "I can't sleep. Maybe it's because I start my first rotation in pediatrics tomorrow. I could be a little nervous." "I would be nervous, too," replied Sister Ann. "Drink some warm milk, it will relax you." "OK, Sister. That's a good idea."
Another student wrote to apologize that the grade for one of her modules has slipped. "I was pretty sick when we studied the 'emergency' module. I'm better now and will raise my grades during the next module," she promised.

When I met with doctoral students during my May visit to Puerto Cabezas, Flor de María reported, "Tell Sister Ann that the third year class is helping women like she does. Our class gives short talks to groups of women to teach about improving women's health in this area of Nicaragua."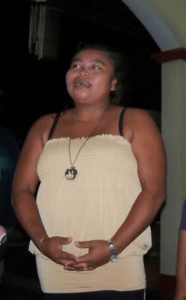 During the same visit, Cleotilde, a representative of the 2015 graduating class proudly related, "The sixth year class had a mass offered for Sister Ann and we all went to pray for her so she gets better. Please tell her we want her to come for our graduation in December." (Sister Ann was recovering from therapy after her fourth bout with cancer.)
A 2014 Adelante Mujer graduate recently contacted Sister Ann and asked her to send a photo of herself because, the student wrote, "When I grow up I want to be like you and help people." Sister Ann wrote back, "You are already like me: You are now a doctor and you are helping people. I helped people as a teacher, you are helping as a doctor."
Because Sister Ann was unable to attend the December, 2014 graduation of the very first class of Adelante Mujer doctors, the group of eight had their picture frame, and presented it to me to deliver to Sister Ann. There they were, so happy and grateful that they can now serve Nicaragua as doctors and that their lives are forever linked to Sister Ann whom they dearly love and revere.
by Sister Diane, CSA
Please consider Adelante Mujer, Inc. in your estate planning.
To donate by mail, please complete our mail-in donation form.