The accomplishments and successes of most people are often unrecognized during their lifetime. However, on February 20, 2020 the contrary happened. Sister Ann McKean, CSA, the foundress of Adelante Mujer, was featured by the Illuminating Women Project at the beautiful Thelma Sadoff Center for the Arts in Fond du Lac, Wisconsin. 
Sister Ann with 29 other women received a glowing spotlight for the way they "shine light" on others. Beside the portrait of each, a short biography describes the creative, generous, and empowering service she gives to help other people. In the month-long exhibit that heralds them, the story of Sister Ann and the other women will inspire hundreds of visitors introduced to them at the Thelma Sadoff Center.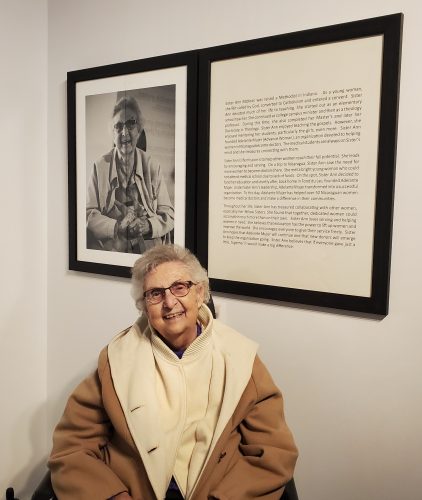 Sister Ann has accomplished many unbelievable feats. She earned a doctoral degree from the prestigious Vanderbilt University. Teaching at all levels from elementary school to university doctoral programs, she was professor for more than 25 years at Christian Brothers University in Memphis, Tennessee. During her sixties, Sister Ann ventured into becoming a licensed pilot and was literally "the flying nun!"  
Despite her many achievements, Sister Ann considers the founding of Adelante Mujer to be the most significant work of her rather exciting life. It was for this initiative that she was featured as one of Fond du Lac's inspiring women.  
We believe that each and every Adelante Mujer student and doctor in far-away Nicaragua considers Sister Ann with equal admiration and gratitude because each is or was a beneficiary of the organization that claimed Sister Ann's devoted work and attention for the past ten years. To each of them and to all young women her message is Adelante Mujer which means "Advance Woman!" She did and they do!