Qualifying for medical school in any country is not something a person takes for granted. To be prepared for higher education in Nicaragua, much less for medical school, is daunting beyond description.
Education in Nicaragua lags behind all countries of Latin America except the Dominican Republic. Many educational organizations agree that a person needs at least 12 to 14 years of schooling to avoid the risk of falling into poverty. Sadly, compulsory education in Nicaragua is a mere 7 years, one year of preschool and six years of primary school. Despite the attendance regulation, more than 10% of Nicaragua's primary school-age children are not in school.
Learning in the schools of Nicaragua is often questionable because requisites for entering the teaching profession have been reduced. With three years of secondary school and as little as six months of teacher training, a person could be placed in charge of a classroom of students in Nicaragua.
Though neighboring countries require 180 or 190 or even 205 instructional days for students, Nicaragua requires merely 169 five-hour school days. During some weeks the actual teaching may take place only two and a half to three hours a day. In rural areas teachers are sometimes physically present for just three days a week.
Despite it all, Adelante Mujer students and graduates successfully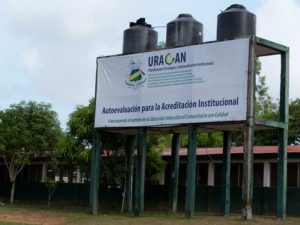 completed primary and secondary school. They entered URACCAN University and survived the academic cut when only half of the class qualifies to continue after the first year of medical school. The Vice-Rector of URACCAN University proudly states that the medical students at URACCAN have the highest average grades of any other school at the university.
Adelante Mujer students have been stalwart learners despite the challenges they face. No wonder we and you are so proud of them.
by Sister Diane, CSA
Please consider Adelante Mujer, Inc. in your estate planning.
To donate by mail, please complete our mail-in donation form.
* Resource: Revista Envío, February, 2015