When someone from the Adelante Mujer team travels to Puerto Cabezas, Nicaragua, it is for business.  We zip around the area between the university, the hospital, and the bank.  Sometimes we go to each place two or three or four times. One night was an exception because we went to church for liturgy with all the URACCAN University graduates.  Bishop David Zywiec,  OFM Cap. presided with the prayerful gathering in the completely filled San Pedro (St. Peter) church.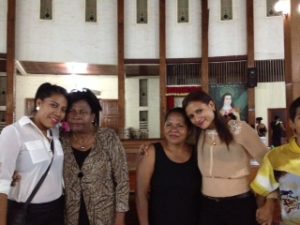 In the heat of the Nicaragua evening Sisters Diane and Miriam Therese joined the festive celebration. Students read and sang and prayed in their beautiful, musical languages. Dr. Manuel Salas, Dean of URACCAN University's School of Intercultural Medicine, sang the Ave Maria meditation.
After the mass it seemed that everyone stayed to visit and take photos. Among our photos is a wonderful picture of two Adelante Mujer doctors with their mothers. Simple words like "overjoyed," "proud," "grateful" feebly describe the emotions they experienced. These moms want every Adelante Mujer donor to know that their daughters are the success they are partially because your great generosity allowed them to attend the university and to graduate as medical doctors in Nicaragua. THANK YOU to everyone for helping their daughters. They sincerely appreciate each and every donation anyone gave.
by Sister Diane, CSA
Please consider Adelante Mujer, Inc. in your estate planning.
To donate by mail, please complete our mail-in donation form.