Sister Ann with students: Six of the above graduated on December 12, 2014, one took the Hippocratic Oath on January 27, 2016, one is a fifth year student
Several people have asked if we expect recipients of Adelante Mujer financial assistance to repay the funds they are given. The simple answer is "No." The response given to students is a little longer.
When a new student is accepted as an Adelante Mujer medical student she is told by Sister Ann, "This money you are receiving to help you become a doctor does not have to be repaid to us. However, there may be a day when you are a doctor and someone will come to you who cannot pay. Please help that person, if you can. That is when you can pay forward what you do not have to pay back to Adelante Mujer." She always says this to students.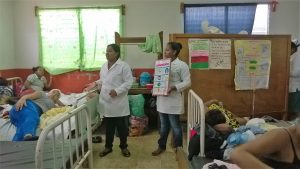 And it seems to be a mantra the student doctors carry in their hearts. During one of my recent visits with students I was asked to relay this message: "Tell Sister Ann we are like her. We help women." And, indeed, they do.  Many photos of "students in action" have shown Adelante Mujer students volunteering in the maternity ward where they give presentations to groups of local women who are excited to learn about the benefits of breast feeding to both the baby and to the mother.  The impact of healthy nutrition is also stressed.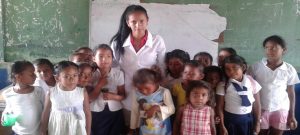 Students take the opportunity to share the wisdom of delaying teen pregnancies when they teach youth and teens.  The need for hand washing and hygiene is frequently emphasized. Thanks to medical students already paying their education forward, the intent of Sister Ann and Adelante Mujer is an expanding reality as it enriches and enhances the lives of women and children on the Caribbean coast of Nicaragua.
by Sister Diane, CSA  ~  July 4, 2016
Please consider Adelante Mujer, Inc. in your estate planning.
To donate by mail, please complete our mail-in donation form.