Mark Neilsen wrote a short reflection for Christmas Day in Living with Christ.  Mark used the verse from Luke's Gospel, "All who heard it were amazed by what had been told them by the shepherds." He then asked, "Can you think of the last time you were amazed?"
Now I hate to admit it but the first thought that flashed into my mind was, "the Hail Mary pass Aaron Rodgers threw and Richard Rodgers caught that gave the Packers a victory in a game they never led!"  I am still amazed at that, though I doubt that Mark Neilsen would be impressed.
In an effort to amend my "amazement" I easily recalled the beautiful story of last week's blog.  I am still surprised that a 2015 applicant for Adelante Mujer assistance would be named after two of our Sisters of St. Agnes.  According to applicant Jhomarie Maurin, the sisters accompanied and assisted her mother all night during the very difficult delivery of the baby girl who now wants to be a doctor.  It is an amazing story which you can read by Clicking Here
Keyling and Sister Diane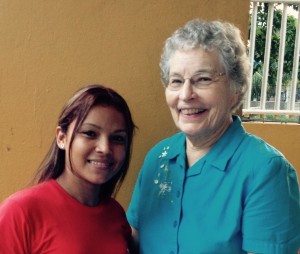 Then, finally, my amazement was clinched by another student who will soon be an Adelante Mujer doctor.  Keyling who just completed her sixth year of study came to see me while I was in Nicaragua last month.  She had a request:  "Would you please deliver a letter and a little gift from me to Sister Ann?"  She explained that she would forever be grateful for the financial assistance she received from Sister Ann and Adelante Mujer.  Keyling showed me the little gift she was sending with her love to Sister Ann.  It was her First Communion rosary!  I was stunned that she would give away such a valued possession.  I complimented Keyling for her expression of gratitude and asked, "Are you sure?   Don't you want to keep it for a daughter you may have some day?"  "No," she insisted, "I want Sister Ann to have it."  A truly amazing gesture!
Sister Ann was equally moved when I presented her with Keyling's generous and very personal expression of gratitude and she promised, "The first rosary I say with this rosary will be for Keyling."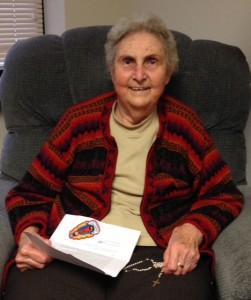 It is a privilege for Sister Ann and me to receive the simple and amazing gratitude that student doctors have for the financial assistance they receive through Adelante Mujer.  I wish I had a little rosary bathed in such simple and deep gratitude for each and every person who contributes to the fulfillment of the dream of young, grateful women like Keyling who will someday be doctors, thanks in great part, to the amazing generosity of our donors.
Sister Ann with letter and rosary
We welcome your donations to help us educate doctors in Nicaragua.
by Sister Diane, CSA   January 4, 2016
Please consider Adelante Mujer, Inc. in your estate planning.
To donate by mail, please complete our mail-in donation form.