Interviewing potential recipients who apply for financial assistance from Adelante Mujer is one of the responsibilities and privileges of the Executive Team member who visits Puerto Cabezas each semester.  Hearing the stories and the need of each student is inspiring, to say the least.  The following story is not one I could have anticipated.
Applicant #3 is an articulate, bright, smiling woman.  Her first name is common in neither the United States nor in Nicaragua.  Let me introduce you to Jhomarie and to her story.
"Hola," we greeted each other with mutual smiles.  "I am Sister Diane," I offered.  "And are you Jhomarie?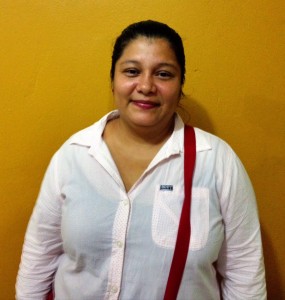 "Yes," she is.  My next question was, "Did you know our Sister Jomarie?"  "No," she responded, "but my mother did."  She continued, "My mother had a terrible time with my delivery and was in labor all night long.  Two sisters, Sister Jomarie and Sister Maureen*, stayed with her during that whole excruciating night.  My mother was so grateful and impressed by their love and care that she named me after them:  Jhomarie Maurin."      (Both names have local spelling and pronunciation.)
The story continues.  Jhomarie's mother became a doctor and teaches in the URACCAN Intercultural Medicine program.  In fact, it is her mother who  submitted the photos and content for two of my previous blogs.  See Student Doctors Help Women and Thank You, Gracias, to Everyone!
Until the interview, I had no idea that Dr. Marilú Rodríguez would turn out to be the mother of an Adelante Mujer applicant named Jhomarie Maureen.
The final inspiration of this interview was Jhomarie Maurin's reply to this question:  "I see that you are already a nurse.  Why do you want to become a doctor?"  She clarified, "Nurses care for the patients but we can't make decisions.  I want to be a doctor who can combine the care with good decisions."  Jhomarie explained that she needed funding for this final year of doctoral study because the pharmacy where she worked is closing, because another source of funding ceased, and because, with the heavy schedule of study and work in the hospital during her sixth year of study, she would find it almost impossible to schedule private nursing services when the patient would really need her help.
We think our readers would agree with Sister Ann that this nurse is worthy of Adelante Mujer funding for the final year on her journey to become a doctor.
Sister Ann and I send each of you prayerful Christmas blessings. May your holidays be happy, healthy, and holy.
Sister Jomarie – was a nurse in Waspam and Sister Maureen was a teacher. She is currently the general vicar of the Sisters of St. Agnes
Sister Maureen Courtney – was killed in an ambush at Ojo de Agua, Nicaragua on January 1, 1990 at the age of 45.
Photo: Nativity scene below altar of St. Agnes Center Chapel, Managua
by Sister Diane, CSA   December 22, 2015
Please consider Adelante Mujer, Inc. in your estate planning.
To donate by mail, please complete our mail-in donation form.