Twenty-five years ago the University of the Autonomous Regions of the Caribbean Coast of Nicaragua (URACCAN) was established by and for the indigenous peoples of the area who had been deprived of higher education for far too long.
Ten years ago the same university initiated an innovative medical school which combines the medical practices of the local people with modern medicine. The InterculturMedicProgram opened in 2009.
                                                                        During October of 2009 URACCAN observed the double anniversary with a gala event.
                                                                                                                          ~~~ ~~~~~~~~~~~~~~~~ ~~~ 
When Sister Ann McKean, CSA, PhD established Adelante Mujer in 2009 she chose URACCAN University as a partner. The vision and mission of the two entities were similar: to provide higher education for the indigenous people, the poor, and women in northeast Nicaragua. 
For ten years URACCAN and Adelante Mujer have developed and valued their relationship. During each semester visit to Puerto Cabezas, Nicaragua, Sister Diane Bauknecht, CSA, Executive Director, and two members of the Adelante Mujer Board of Directors meet with administrators of the university and with the Dean of the Medical School. 
In December of 2019 the semester visit began with the usual business and sharing of ideas for the future. At the conclusion of the meeting Ms. Ivonne McLean announced, "We have a gift for Adelante Mujer," and formally presented Sister Diane with a beautifully inscribed wooden plaque. With humble pride and deep joy we share this news with you, our friends and donors, who make the vision and mission an award-worthy endeavor.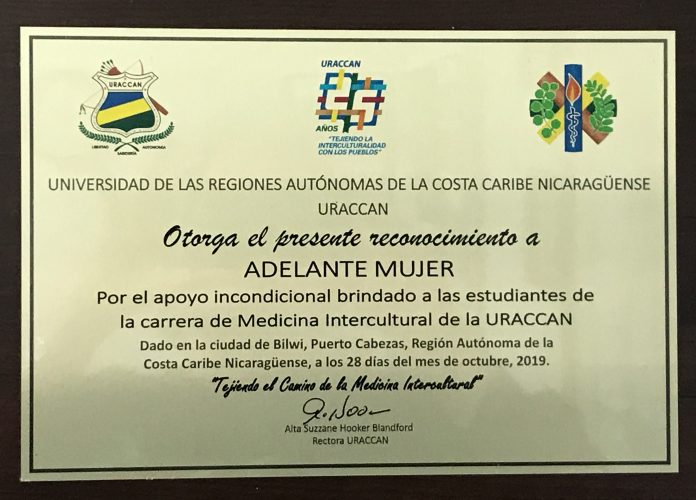 UNIVERSITY OF THE AUTONOMOUS REGIONS OF THE NICARAGUAN CARIBBEAN COAST
URACCAN
Gives the present recognition to
ADELANTE MUJER
For the unconditional support provided to students in
the Intercultural Medicine Career of URACCAN
Given in the city of Bilwi, Puerto Cabezas, Autonomous Region of the
Nicaraguan Caribbean Coast, October 28, 2019 
Weaving the Path of Intercultural Medicine
     Alta Suzzane Hooker Blandford President, URACCAN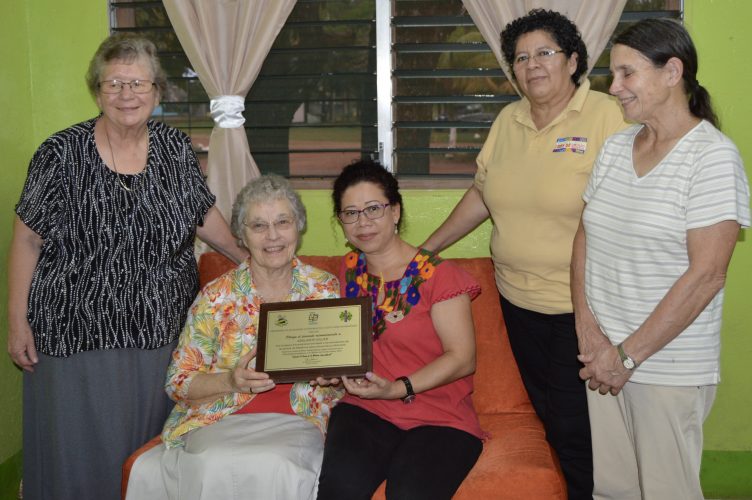 Esther Hicks, Board President
Sister Diane, Executive Director
Ivonne McLean, URACCAN Academic Secretary
Dr. Ivania Lopez, Dean of the Medical School
Mary Gorske, Board Secretary
Sister Diane ~ January 2020