People have many reasons for giving. What follows are some facts about giving and some of the comments we have received from our donors:
"I love giving to help other women."
"I've been looking a long time for a charity that would have a direct connection to the recipients, one without those huge administrative costs."
In May 2015, there were approximately 1,521,052 charitable organizations in the United States.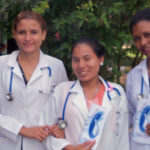 "I visited Nicaragua and have witnessed some of the poverty. They really need our help."
"I wish I had known about this project earlier."
The average annual household contribution in 2015 was $2,974.
From a gentleman and annual donor:
"I'd do anything to help your cause. Just let me know."
Another note said,  "$100 is enclosed. It is given in the name of my friend as her birthday gift." And "the friend" said, "It is the best birthday gift I received this year."
63% of high net worth donors cite "giving back to the community" as a chief motivation for giving.
"It is an honor to a part of this important ministry."
A bereaved friend enclosed this message with her check:  "This gift is in honor of my dear friend who loved Adelante Mujer and told me all about it."
Religious causes are, and always have been, Americans' favorite charitable targets.
"Leave it to the Sisters to start such an important work."
There is so much need in this world, so many worthy causes. How does one choose where to contribute? Sister Ann, the foundress of Adelante Mujer, often says, "It doesn't matter where you give, the important thing is that you do."
Of course we hope you choose Adelante Mujer.
Rita Thomas, Board Member,  June 7, 2017
Please consider Adelante Mujer, Inc. in your estate planning.
To donate by mail, please complete our mail-in donation form.