Tucked away on the third floor of the Sisters of Saint Agnes Nazareth Center & Court in Fond du Lac, Wisconsin U.S.A. is a tiny room no larger than 8' x 10'. It contains a desk with a laptop computer, a printer, and a recently purchased chair for Sister Ann, one which she is able to get in and out of by herself.  Her walker is always nearby.  Next to this desk is a built-in closet.  Opposite that desk is a small table and another chair for one more person to work.  There's little room to walk between them.  A window looks into the hallway.  The desk and walls are decorated with  photos of current and previous students, a clock, and a crucifix.
This is where the magic happens. Sister Ann communicates with our students in Nicaragua via Facebook Messenger. She also spends many hours writing grant proposals to raise money for next semester's students. Funds are raised and coordinated here, lives in Nicaragua are changed. From here aspiring female doctors are encouraged, supported, and become successful medical professionals. Sister Diane also works in this office as well as at her own home. She keeps an exacting eye on the financial end of the program.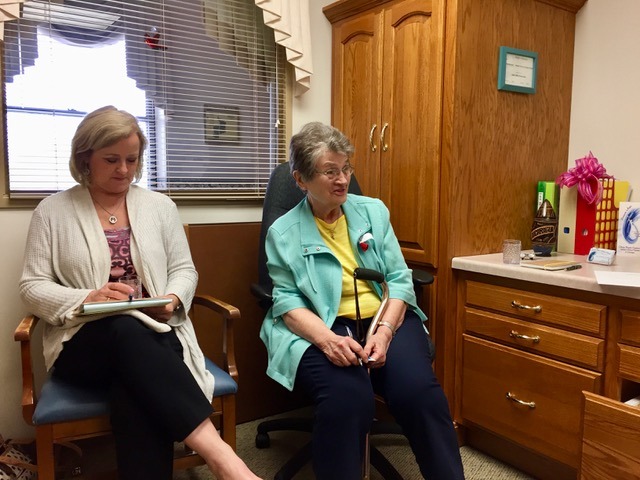 The Development Committee brings in two more chairs when we meet. Now we are four in this small office making it very cozy. Ann welcomes us with a treat, sometimes homemade cookies from Sister Diane. The Sisters of St. Agnes provide this room at no cost to Adelante Mujer. Computer equipment is often donated by a generous benefactor. No board members are paid. We use as much of your generous donation as possible to support the students. We love to brag that twenty-two women are now working as physicians in Nicaragua because of what is coordinated in this 80 square foot space. Much has been accomplished from this tiny room in Fond du Lac, Wisconsin, all driven by your donations small and large.
Rita Thomas ~ Board Member ~ July 5, 2017
Please consider Adelante Mujer, Inc. in your estate planning.
To donate by mail, please complete our mail-in donation form.