They started just about the same time. Sister Ann McKean, foundress of Adelante Mujer, conceived the idea to try to raise money in the US to help fund higher education for needy women in Nicaragua.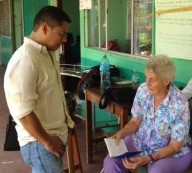 Doctor Manuel Salas, pioneer in founding Nicaragua's only Intercultural General Medicine program, was named dean of the new School of Medicine at URACCAN University. It was 2008. Each one forged a dream into reality. During 2009 URACCAN University launched its medical program and Sister Ann partnered Adelante Mujer/Advance Woman with URACCAN.
Dr. Salas, friend and helper to Adelante Mujer, was born in Rosita, Nicaragua. He has two sisters and four brothers, one of whom died during the war in 1982. Dr. Salas studied medicine at UNAN University in León,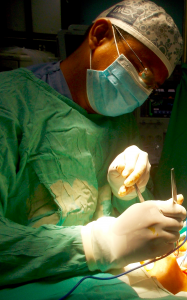 Nicaragua and has been a physician for 19 years. During 2008 he began his work in URACCAN University and became a resident of Puerto Cabezas. In addition to the tedious work of helping to establish URACCAN's Intercultural Medicine program, Dr. Salas spent seven years teaching and mentoring medical students in university and hospital settings. He says that "teaching different issues related to basic and clinic sciences of medicine," is his mission. As surgeon in the local hospital he attends to every type of operation including those that involve gun and knife injuries. When there is time, he likes to paint, dance, exercise, sing, cook, and read.
"I love to work in my own country and I am honored to participate in opening the first medical school of our North Caribbean Coast," Dr. Salas said. "We have a new way to teach medicine taking cultural issues related to health and educating a new generation of doctors who can better attend indigenous and Afro-descendant populations."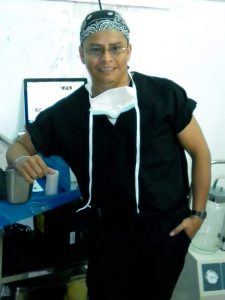 Dr. Salas has been recognized by his peers for his exemplary work. The promotion ceremony on January 27, 2016 was dedicated to Dr. Salas and two others who were honored as "Pioneers of Intercultural General Medicine." During February the governor commissioned Dr. Salas as the Director of Regional Health which involves the coordination, supervision, and evaluation of all health plans in the North Caribbean Coast region. His work with URACCAN University has ended though he will continue to serve as surgeon and director of intern doctors at the Puerto Cabezas hospital where his relationship with Adelante Mujer will continue.
Adelante Mujer will forever be indebted to Dr. Salas. He is always a willing consultant regarding student status and he even invited Sister Ann to observe in his class. His knowledge of English is a special bonus.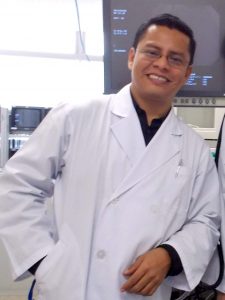 Dr. Salas consistently refers to Adelante Mujer as a "beautiful project" and he believes that Sister Ann and all our donors are "angels" to the future women doctors of eastern Nicaragua. That sentiment is mutual.  We consider Dr. Salas an angel to his people and to our students. We are blessed to have him as our "angel" in Puerto Cabezas, Nicaragua.
by Sister Diane, CSA ~ May 9, 2016
Please consider Adelante Mujer, Inc. in your estate planning.
To donate by mail, please complete our mail-in donation form.