During a medical mission trip to Nicaragua in 2013, I was struck by the poverty and lack of access to medical resources in Nicaragua.
Nicaragua is the 2nd poorest country in the Western Hemisphere. The average yearly income for a Nicaraguan is only 1,950 US dollars per year.   In outlying clinics, there was no running water and no labs available.
When I asked for a pregnancy test for a young woman who I thought might be pregnant, I was told by the local nurse, "you just feel" as no test was available. In the community hospital which had a few limited labs available, I was shocked that it was not possible even to check blood sugar to find out if someone might be diabetic. Wheelchairs and crutches were not available.
As a doctor in the U.S., I rely on labs and imaging studies and the latest and greatest medications to diagnose and treat patients.  In Nicaragua, doctors need a whole new approach.  They often must rely completely on their ability to diagnose based on the patient's story and the findings on the exam.  They have to be extremely knowledgeable and have superb exam skills.  They have to understand how to work with "what they have" in terms of resources.  If a medication is not available, maybe there is a natural remedy that might work.  With many different indigenous people who speak a variety of languages and have different cultural beliefs a culturally competent approach is critical.   This is why I am excited to support Adelante Mujer.   The organization helps bright young women become doctors at the School of Intercultural Medicine in Bilwi/Puerto Cabezas Nicaragua.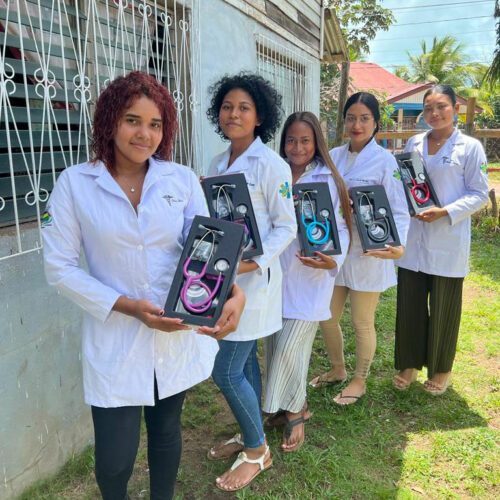 ~~~ Dr. Gina Everson, April 2023 ~~~