We often write about our new Adelante Mujer doctors and our current medical students. This blog is devoted to donors and future donors.  To YOU!
While it is true that most people do not donate for fame and many do not donate only to claim tax exemption, many, maybe all, do like to know that their gift is making a difference. If you view the graph below you get a picture of the growth of and benefits to Adelante Mujer which financially assists women medical students in Bilwi/Puerto Cabezas in eastern Nicaragua.
During 2009 Sister Ann McKean, CSA, PhD, founded and named the charitable endeavor she hoped would financially assist women students who wanted to earn a university degree but would be unable to pay for it because of dire poverty. By 2010 Sister had collected some meager funds with which she was able to assist the first Adelante Mujer students for the minimal cost of tuition and matriculation plus some school supplies they needed in the medical program of URACCAN University.
Each consecutive year a few more students applied for Adelante Mujer funds. As the needs grew so did the efforts to connect willing donors and foundations with the mission. Funding for each student also expanded. It was reported that many students did not eat at the university because they could not afford the cost of food there. Adelante Mujer began offering money to purchase a meal on school days. As students advanced to the fourth, fifth, and sixth year of medical school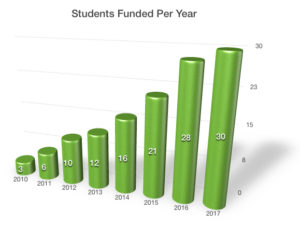 their expenses increased with the need to purchase lab coats, scrubs, rubber gloves, stethoscopes, blood pressure cuffs, etc. Adelante Mujer again responded by increasing the funds for the grateful medical students.
There are medical enrichment workshops offered in León, Nicaragua and, thankfully, Adelante Mujer has been able to fund a few students who have taken advantage of those opportunities.
Each student is gifted with an engraved stethoscope on the day she takes the Hippocratic Oath.  At the end of 2017 the first eight Adelante Mujer doctors will complete their three years of internship and social service. An additional expense to pay for their final certification will be required and, if necessary, Adelante Mujer is considering a response to this new need.
Thanks totally to generous donors, eastern Nicaragua already has 22 new Adelante Mujer medical doctors and 30 Adelante Mujer medical students. This positive impact in the second poorest country of the Western Hemisphere is a tribute to each and every donation, however large or small, made by big-hearted people and organizations from all across the country who give so that others will live!
by Sister Diane, CSA ~ February 16, 2017
Please consider Adelante Mujer, Inc. in your estate planning.
To donate by mail, please complete our mail-in donation form.