When people donate they usually want to know two things: Is my money going to the cause I want to support and do recipients appreciate what I give?
The reply to the first concern is a definite "Yes, every penny of every donation is used to help young women in Nicaragua who are studying to be medical doctors. Every penny."
Do the medical students appreciate what I give? Another resounding "Yes!" During every visit to Nicaragua we are thanked for helping students realize their dream to be medical doctors. One student said, "We can't believe strangers would help us like they do." A student who is now a doctor explained, "I never could have paid for all I needed to complete my degree. Tell everyone that I am infinitely grateful."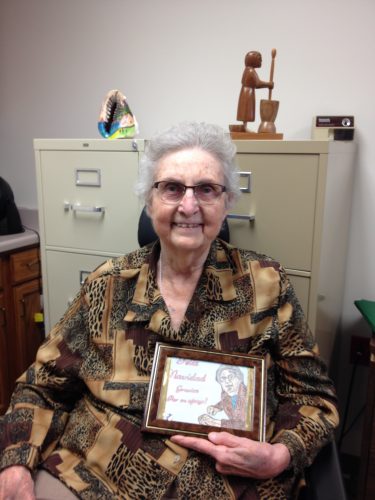 Sometimes when we are in Nicaragua a student will give a thank you note or a little gift of gratitude to us who represent the program. Sister Ann who founded Adelante Mujer is the one most commonly  honored. One grateful student used her considerable artistic talent to thank for the funding she had received. "I made this for Sister Ann," she told us. She opened a lovely drawing she offered as a gift. Sister Ann was quite impressed by the likeness it had to her. The gratitude of the students is truly special and so very sincere.
A few years ago one of our beautiful almost-doctors gave me a little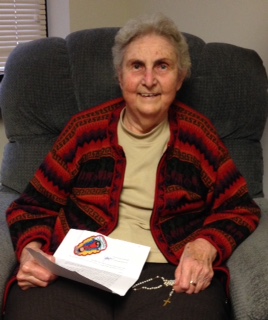 envelop to deliver to Sister Ann. She told me it was her First Communion rosary. Needless to say, it was very humbling and quite unbelievable for her to give something so precious. "Are you sure?" I asked. "Don't you want to save it to give to your daughter for her First Communion?" "No," she insisted. "I want Sister Ann to have it. I am so thankful to her that she started Adelante Mujer and now I will be a doctor because of all the help from Adelante Mujer." Thank you, donors, in her name.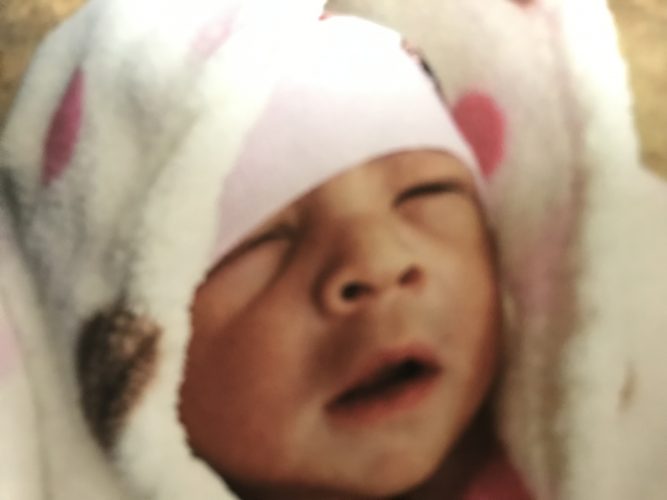 Last December one of our doctors said through an interpreter: "Tell Sister Ann that she is going to be a grandma!" She continued, "When I have my baby I will name her after Sister Ann because she helped me so much for all those years I studied." And sure enough, as of the end of January there is a baby named after the foundress of Adelante Mujer. How grateful is that mother who is now an Adelante Mujer doctor! Her daughter is living evidence of her thanks to all who give to help women medical students in northeastern Nicaragua become medical doctors.
Sister Diane ~ May 2019
Please consider Adelante Mujer, Inc. in your estate planning.
To donate by mail, please complete our mail-in donation form.