A long, long letter arrived after the graduation of Dr. Cindy.  In her letter titled "My Gratitude,"  Cindy thanked Adelante Mujer donors: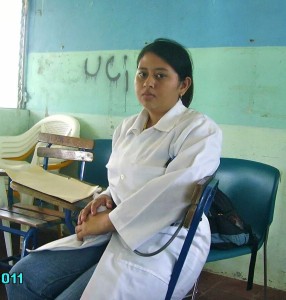 "I am very grateful to God and the Adelante Mujer program that helped me.  Its support was great in giving me the funding to fulfill my dreams of becoming a doctor and finish my university studies.  I am a woman of low economic resources.  The program helped pay for university courses of preparation, books, uniforms, and all the other things I needed to study and be great.  Thanks to the help I received, I am a doctor capable of helping those in need.  Thank you, Adelante Mujer."
Cindy continued, "I want to thank another very wonderful woman.  She is a nun, Sister Ann McKean, who reached out her hand to help me in an unconditional manner without really knowing me.  She allowed me to participate in a project that helped me become a doctor.  Infinite thanks."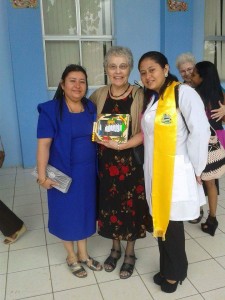 Dr. Cindy's lengthly letter included thanks to her parents and sisters, especially her older sister Lizi who raised Cindy after their mother died.  Lizi also expressed her gratitude:  "Sister Ann, I am Cindy's sister who took care of her after the death of our mother.  I want to thank you greatly for all the help you gave my sister.  I ask that God will always bless you with health and strength and to multiply your finances so you continue to support many more students.  On behalf of my father and my other sisters and in my name and, if my mother were alive, we all say thank you for your unconditional support.  God puts people to fulfill their purposes and you were part of God's purpose.  God bless you and thank you again.
You are invited to help students like Cindy who will be eternally grateful.
by Sister Diane, CSA  ~  February 1, 2016
Please consider Adelante Mujer, Inc. in your estate planning.
To donate by mail, please complete our mail-in donation form.