As I said, I know I have not arrived; but there's one thing I am doing: I'm leaving my old life behind, putting everything on the line for this mission. I am running toward the only goal that                                                                               counts: to cross the line, to win the prize, and to hear God's call to resurrection life found exclusively in Jesus the Anointed.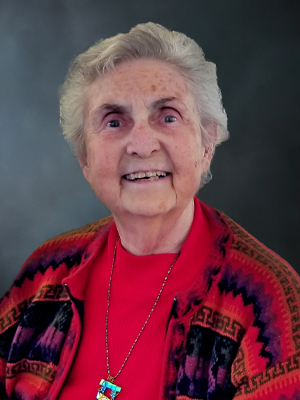 — Philippians 3:13-14 (Source: The Voice) 
 The quotation above is not Sister Ann McKean's, but it well could be. Anyone who knew Sister Ann can attest to the fact that, as foundress of Adelante Mujer (Advance Woman,) she "put everything on the line for this mission." Whether it was the welfare of the students, the success of the doctors, the pursuit of grants, the wisdom of investments, the caliber of the Board of Directors, the succession after her retirement, Sister Ann gave total energy and attention to each aspect of her mission. Someone jokingly said, "No matter what we're discussing, Ann always manages to weave the conversation to Adelante Mujer!" 
 Everything about Ann McKean's life seemed to be preparing her for the final mission before "running toward the only goal that counts." As a teen she was drawn to investigate various churches and their spirituality. By the time she graduated from high school Ann had decided that Catholicism was her call. On her 18th birthday she was baptized into the Catholic Church. That decision thwarted her plan to become a protestant missionary. What should she do? Become a Catholic sister was her answer. Friends introduced Ann to the Sisters of St. Agnes who taught in her home town, Decatur, Indiana. At the age of 19 Ann traveled to Fond du Lac, Wisconsin to begin the process of becoming a sister. 
 Sister Ann's professional preparation was for teaching. Assignments in New York, especially in Harlem, gave her glimpses into the disadvantages of people and families deprived of financial stability. Her missionary heart never forgot the plight of the poor. 
 Living in New York provided other opportunities for Sister Ann whose strong intellect and perpetual curiosity compelled her to delve deeply into the Scriptures she treasured as a protestant and theology she embraced as a Catholic. Always seeking to know and love God, Sister Ann pursued and earned a doctoral degree in historical theology from the prestigious Vanderbilt University. Her dissertation researched Karl Rahner's Theology of Religious Life. The lone fish that entertained her over the past months was named Karl which demonstrates her esteem for Father Rahner's timeless teachings.
 Sister Ann's professional career spanned fifty years with the majority spent at college, seminary, and university levels. One former student claims that her classes were always well prepared and definitely worth the commitment she required. A seminary student, now a priest for 34 years, gratefully asserts that Sister Ann positively influenced his theology of Jesus which he lives and preaches to this day. 
 When there was need to initiate a new program or course of studies, Sister Ann she took the responsibility with professional leadership. When she needed a intellectual challenge, she became a student again and earned a pilot's license. When she saw the need to help women in Nicaragua follow their dream for higher education, Sister Ann founded a program, Adelante Mujer. 
 Convert, vowed woman religious, teacher, student, doctor, professor, pilot, leader, foundress: Sister Ann McKean, CSA, PhD, "crossed the line, won the prize, and heard God's call to resurrection life found exclusively in Jesus the Anointed." She peacefully died on April 11, 2020, just on time to celebrate the feast of the resurrection (April 12) with Jesus the Anointed whom she faithfully followed all her life. 
 Sister Diane, CSA ~ May 2020