My name is Marie Trebec and I was hired two years ago to serve as part-time secretary at the "international office" of Adelante Mujer, Inc. in Fond du Lac, Wisconsin.  Sister Diane, now the Executive Director, asked me to tell my story as to how this came about and what interests me about the organization.
I had previously worked for 35 years at a law firm in Fond du Lac, Wisconsin, and before that was a teacher for 15 years.  I am involved in music and liturgy work with the Sisters of St. Agnes (CSA) and love that part of my life.  Two years ago notice went out online to the CSA Associate Community (of which I am a member) requesting applications for a part-time position as secretary for Adelante Mujer, Inc.   I jumped at the chance to apply.  As a donor, I was aware of the work that Adelante Mujer did to solicit funds to support women in northeastern Nicaragua who were studying to be medical doctors.  Now I could be a small part in helping this most worthwhile cause.  The fact that the organization supports the training of women is another big plus for me.
On the two afternoons I work each week I enjoy keeping updated lists of students, lists of donors, charts of grants, printing thank-you letters, entering checks and donations in Quickbooks, filing, wrapping stethoscopes for the graduating doctors, and anything else for which I am needed.  An excellent way to learn about everything that goes on in the organization is to help in writing grants.  What eye-opening work!
During this COVID-19 Safer at Home time, I am able to continue with some of the work at home.  Sister Diane and I stay in touch online and hang work completed or to be done in a plastic bag on one another's front doors.  We have it all worked out!  The picture is taken at my kitchen table office at home.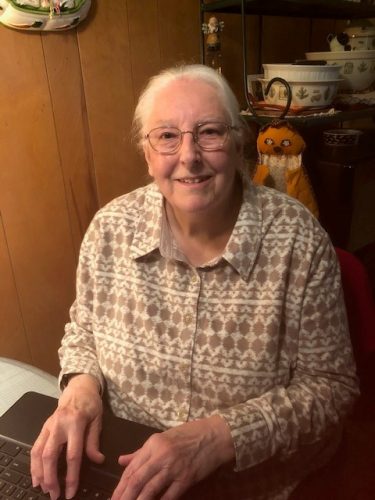 To me, one of the most amazing things about this program is that Sister Diane (and Sister Ann before her) knows each student personally and is concerned for the welfare of each one.  Sister Diane goes twice a year to Nicaragua to interview applicants, visit with students in various years of study, and keeps in contact with them via email and they with her.  Not many organizations can say they know each person with whom they are working and for whom the organization exists.
All of us working for Adelante Mujer are grateful to all of you who donate and keep the organization going.  I work here because I strongly believe in our mission.
Marie Trebec ~ June 2020