We often talk about the six years the women in Adelante Mujer spend in the Intercultural Medicine program at URACCAN University. These women work hard, often beginning their studies in a language that is not native to them. (Women from the remote areas of Nicaragua often speak Miskito or Rama, or another indigenous language. Those who do, will learn Spanish when they start at the university.) These women, most coming right from secondary school, begin studying physiology, anatomy, and medical vocabulary. They then add special medical areas such as the cardiovascular, reproductive, digestive and respiratory systems.  Finally, they study pharmacology, immunology, alternative medicine, and epidemiology. During their years, they spend time practicing their skills and seeing patients. When they are finished with the program, they take the Hippocratic oath.  
But that is not the end. They then spend a year doing an internship. They spend two years of required social service in return for the tuition money they receive from the government. Additionally, during this time, they do research and write a monograph on a specialized medical subject. They must defend their monograph to a professional panel. It is only after all of these steps that the women receive their diploma from URACCAN. They will then receive their MINSA code, similar to a medical license in the US. It is a long road, but the women in our program are becoming excellent doctors.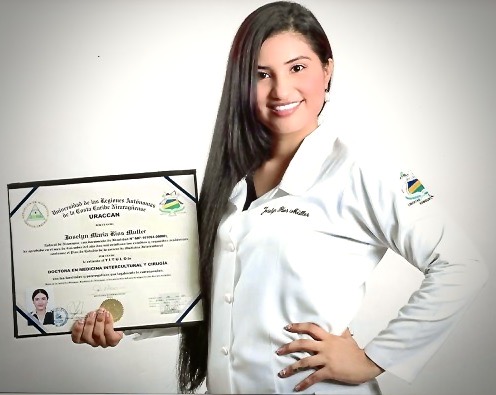 A graduate of the Adelante Mujer program, Dr. Joselyn poses with her new diploma.
~~~ Karen, November 2022 ~~~