Semester One of 2020 will soon be history for Adelante Mujer students in the Intercultural Medicine program of URACCAN University in northeast Nicaragua.  In addition to attending classes, doing assignments, and helping at the hospital, our students often do volunteer work by providing health care to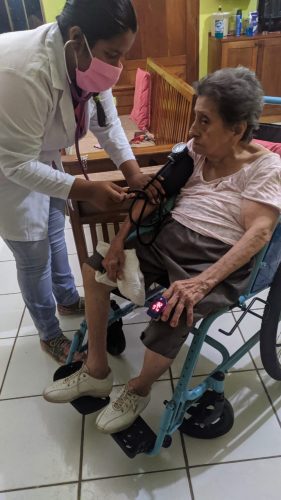 family, neighbors, and needy people in the area.  Below are ventures of our sixth-year students. 
 Allison:  The photo I am sending you is of my granny.  I take care of her always.  I take her blood pressure and vital signs in the morning and at night because the situation we are in could affect her a lot.  She is elderly and should not be exposed to any contagion.  We all take great care, we use masks and wash our hands and disinfect everything to keep her safe.  
Jazmin:  Because of the global pandemic we are not working in the hospital.  The report I share with you is taken in the neighborhood where I live.  This patient has chronic-based pathology of high blood pressure.  I went to care for her, finding her high pressures of 140/100.  She was given advice for appropriate use of her treatment and is feeling better.    
 Judith:  We are learning about the most common pathologies in our environment and in the world such as high blood pressure, diabetes mellitus, pyelonephritis, electrocardiogram reading, congestive heart failure, epilepsy, pneumonia, and others.  As a medical student I am always available to people who need my care either in taking blood pressure, giving injections, and providing information about medications.
 Maikelin:  From the end of March I started my clinical practices in internal medicine service which was a beautiful experience.  I always went to clinical practices at 6:00AM and left at 12.  Most of the patients assigned me were elderly people. … I was very pleased to attend them with humanism and love.  And, with a smile, I hear them say thank you.  It is a wonderful privilege.
Jenny:  My mother is diabetic and has hypertension and often does not feel well.  As a medical student, I keep an eye on her every day and help her with her medications.  With all the coved-19 people in my neighborhood they are in solitary confinement as a method of prevention.  But whenever they need my help they call by phone and I help them in whatever way I can.
Keyla:  I give volunteer services in blood pressure intakes and daily glycemia, in this way I also provide advice regarding diet and protective measures.  I carry out this activity taking all measures so as not to infect myself or infect others.
Mercy:  A gentleman was admitted to the orthopedic room for an injury on the sole of his foot.  With two weeks of antibiotics he did not improve.  It turned out that the disease had damaged the main vascularity of his foot. The next step was amputation.  I was in the surgery of that patient, I felt very sad because I imagine the anguish of that person. Maybe he thought the injury was minor and now he needed an amputation.
Sister Diane, CSA ~ July 2020