Throughout my 63 years as a Sister of St. Agnes, I have been blessed to work in various exciting and fulfilling ministries. Without a doubt, roles I played in Adelante Mujer these last seven-plus years were the ultimate definition of exciting and fulfilling! Working with Sister Ann McKean, CSA, PhD, the Foundress of Adelante Mujer, was never boring because her brilliant mind and daily ideas to improve the world were forever expanding.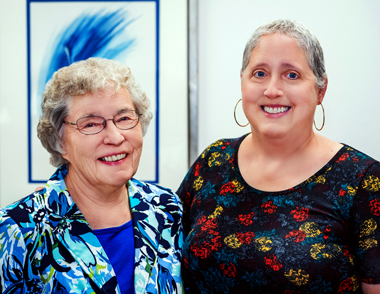 Interacting with more than one hundred medical students who overcome challenges beyond our comprehension was inspiring. Collaborating with numerous personnel in Nicaragua was a privilege and blessing as was working with our own office staff in Fond du Lac. Assisting the Board of Directors in the process of "birthing" Adelante Mujer to be a strong and credible corporation proved what dedicated women can and do accomplish. Witnessing the consistent generosity of donors caused my heart to believe in the ordinary people who sacrifice with a cheerful spirit to help others in need. Working in Adelante Mujer has, indeed, been a holy experience in the elder years of my life.
With all good things, there is a time and a season to pass the baton to a new generation. Though I will spend some months as Emerita Director for the smooth transition of leadership, I have complete confidence that our little but impactful organization will grow and flourish with the direction of Karen Heuberger. May she be blessed in and by Adelante Mujer as have I.
Sister Diane ~ August 2021
~~~~~~~~~~~~~~~~~
It is with a grateful heart that I begin my journey with Adelante Mujer. As I write this, I have only been in the position of Executive Director for a week and a half. Already, in just that time, I have learned much about the good works of the organization. I have had the opportunity to meet many of the board and staff who embody the mission and support the young women of Nicaragua studying to become doctors. I have heard the stories of some of these women who, despite the many challenges, never stop dreaming and striving to become the best doctors they can be. I am touched by the heartache and perseverance of these women, and I celebrate the 61 women from the program who have already earned the title of doctor and are serving the people of Bilwi, Waspam, Rosita, and other impoverished areas in Nicaragua. I am humbled by the work Adelante Mujer does, and hope to serve the organization, the women, my colleagues, and the donors well. Thank you for this opportunity. 
Karen Heuberger ~ August 2021