Michayska is a fourth-year student at URACCAN. Below she shares a bit about her work with a child in her community.
First of all, cordial greetings…God bless all the people who have made it possible to achieve this scholarship. I also express my gratitude for the support that has been given to me during my university career in order to continue forward and every day closer to our goal. Through this present, I want to let you know my contribution to my city putting my knowledge into practice being an honor for me to be able to help the population in general. In this case, I will be introducing you to my pediatric patient.
Age: 1 year.
Origin: Tuapi community.
Illness: Chronic renal failure.
My pediatric patient with a family pathological history.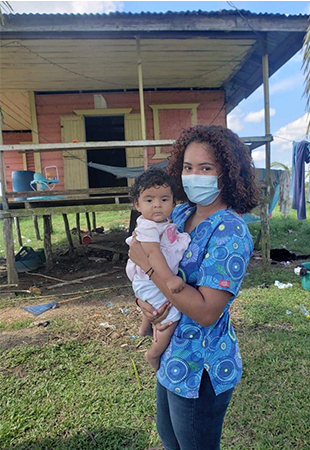 Her mother's chronic renal failure, the family member tells me that during the first months of life the baby began to present a fever without any cause. When her mother took her to the consultation, she was found to be overweight with swollen feet. She underwent various tests, finding the right kidney with congenital damage. Since then my patient has been under treatment with clinical improvement.
I decided to give my attention and support to this patient since, being a child, she needs a lot of understanding. I offer advice to the parents on the importance of treating the disease on time and recommending advice for a healthy life for the baby, so that it does not come to present other complications that put her life at risk. I make sure that she complies with her treatment by visiting her once a week, and so far, I am satisfied that she has remained stable.
~~~ Michayska, July 2023 ~~~