Mercy Sunday will be observed on April 3rd.
How often do we think about mercy? Until Pope Francis declared a Jubilee Year of Mercy to extend between December 8, 2015 and November 20, 2016, most of us probably paid little attention to Mercy Sunday or even the importance of practicing mercy in our everyday lives. Yet, our Scriptures have spent twenty centuries challenging us to "Be merciful, even as your God is merciful." (Lk 6:36)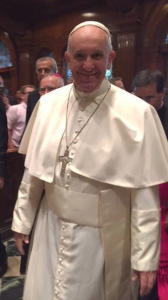 Defined by the Merriam-Webster Dictionary, mercy is "a blessing resulting from divine favor or compassion." So, first, we face the truth that mercy does not begin with us. It is a gift or favor, it is a blessing, and it is from the Divine. The mercy of God is loving, active concern for each one of us. God feels responsible; that is, God desires our well-being and wants us to be happy, full of joy, and peaceful. God wants that for each and all of us.*
And Jesus clearly tells his followers: "Be merciful, even as your God is merciful." (Lk 6:36) Be that caring, that loving, that concerned for others as God always is.
We believe, without any doubt, that people who support Adelante Mujer are sharing the mercy they have received from the Divine. We experience your caring for the needy by your financial assistance that gives young women the opportunity for an education. We know you are moved with compassion for the many Nicaraguans who die because they lack access to good health care.  We experience your concern for the children who never live to be toddlers because their mothers are deprived of prenatal care and safe child birth.  We see your mercy that helps finance medical students who will help provide preventive care to so many residents of eastern Nicaragua who are, to this day, still awaiting the basic merciful care that God surely intends for them.
All year long we see your mercy that is so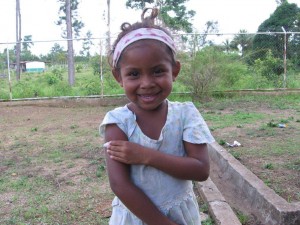 like God's mercy and on Mercy Sunday we celebrate with you because you have accepted the challenge of Jesus: "Be merciful."  God loves and appreciates you generous mercy!
Child in Nicaragua after receiving a vaccination
by Sister Diane, CSA    March 28, 2016
Please consider Adelante Mujer, Inc. in your estate planning.
To donate by mail, please complete our mail-in donation form.